Welcome to GuideToSFoT.com, the most comprehensive, unofficial guide to Six Flags over Texas.
Six Flags is holding its annual off-season job fair and hiring event over the next three Saturdays. Interested applicants should apply online and will be able to interview in person (where many positions offer on-the-spot hiring). The dates of the fair are: Saturday,...
read more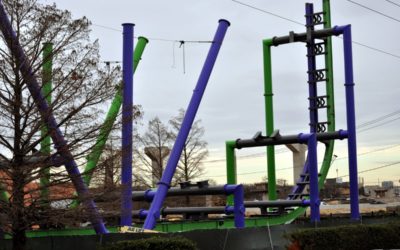 December construction update for the New-for-2017 roller coaster The Joker at Six Flags over Texas.
read more
Six Flags over Texas announced it wouldn't be opening Sunday, December 18 due to frigid temperatures. Sub-freezing temperatures and wind resulting in near-0°F windchill would result in many rides not operating and safety issues with guests.
read more
Join the Discussion
Join other theme park fans to discuss Six Flags over Texas.
Visit the Forums
After considerable work we now have individual pages for virtually all of Six Flags over Texas' dining locations. Click on the different park areas to see what dining locations it offers.
read more
Guide to SFoT is finally on Facebook! Like our page to keep updated with the latest Six Flags over Texas news.
read more