Six Flags over Texas History
Six Flags over Texas has a rich history, spanning over 55 years while innovating countless industry firsts. Although the history could easily fill a book (and it has), a brief background on the park is below.
The Beginning
Six Flags over Texas was the brainchild of Texas real estate developer Angus G. Wynne, Jr. After visiting the newly-opened Disneyland in California, Wynne decided his home state needed a similar attraction with a healthy dose of Texas history mixed in. Plans for such a park were developed in 1959 by Wynne, the Great Southwest Corporation, and investors from New York. Construction began in August, 1960 with plans of opening the park a year later in 1961. The final price tag of the 205-acre park was $10 millionAbout $80 million in 2015 dollars.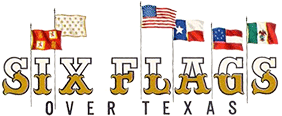 The park had a "soft" test opening from August 1-4 and an official public grand opening on Saturday, August 5, 1961. Opening day attendance was 8,374. Park tickets for the inaugural season cost just $2.75 for adults and $2.25 for children, with parking priced at 50¢. Six Flags over Texas was also unique in that it pioneered the "Pay One Price" model, requiring a simpler single admission price that included all rides and attractions. Even Disneyland, which Wynne had taken much inspiration from, still featured the pay-as-you-go pricing model until it quietly changed over to SFoT's popular "POP" model.
Interestingly enough, Six Flags over Texas was never intended to last beyond a few years. The park's original purpose was to be a temporary money-maker for the Great Southwest Industrial District to fund other projects. Everyone, including Wynne, was surprised when attendance shattered expectations during the first 45-day season, making it obvious that the park would have to remain a permanent fixture of Arlington, Texas.
The Name and Themed Areas
Story has it that Wynne initially planned to call the park "Texas under Six Flags," until his wife reminded him that 'Texas wasn't under anything.'
The six flags comes from the six nations that have governed Texas during its history. These flags include Spain, France, Mexico, the Republic of Texas, the United States of America, and the Confederate States of America.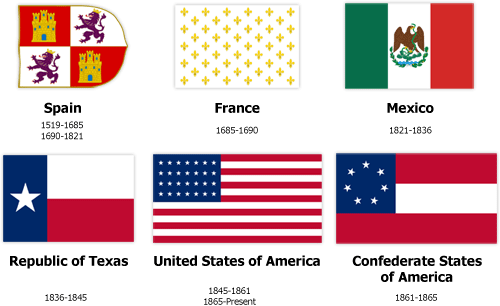 When the park opened in 1961, it had themed areas for each flag. Today the park has combined the Spain and Mexico sections into one area, while referring to the France and Confederacy sections as the "Old South and France." The Texas and United States areas still remain, while additional sections have been added as the park expanded over the years, including "Tower," "Boomtown," "Gotham City," and "Goodtimes Square" (since absorbed by Gotham City) for a total of 7 themed areas.
Ownership Changes
Six Flags over Texas has undergone a number of ownership changes throughout its years. The following is a brief, incomplete history of the significant ownership changes.
Angus G. Wynne expanded the Six Flags concept to the south with Six Flags over Georgia, but later sold the park to Six Flags Over Texas Fund Ltd, a limited partnership with Jack Knox. The Penn Central Corporation began management of the park in the 1971 season.
Following further park acquisitions, Time Warner eventually gained control of the company through stock buyouts in 1993, bringing with it a new era and the licensing of Warner Brothers and DC Comics characters throughout the park. Their influence is felt most in the kid's Looney Tunes section of the park, and later in Gotham City with the introduction of Mr. Freeze and Batman the Ride.
In 1998, the Oklahoma-based Premier Parks company purchased the Six Flags corporation from Time Warner for an estimated $1.86 billion. Through licensing agreements, Premier Parks continued to carry Warner Bros. character themes and attraction names. Premier Parks renamed itself to Six Flags Theme Parks Inc. in 2000.
Today, the park has a unique ownership arrangement. Unlike other Six Flags parks, Six Flags over Texas is not actually owned by the corporate Six Flags (Six Flags over Georgia has a similar arrangement). Instead, it is owned by over 120 limited partners, some of which are Wynne's heirs. Six Flags Inc. simply manages the park with a "nonvoting, beneficial interest in 52 percent of the theme park and the underlying land." This arrangement has occasionally caused conflict between the partners and Six Flags Inc., due to claims of mismanagement and financial problems. In the most recent example, parent company Six Flags Inc. filed for bankruptcy protection in 2009 after amassing $2.7 billion in debt. Due to the ownership arrangement of Six Flags over Texas and Six Flags Inc., however, the park was not affected by the bankruptcy filing.
The company emerged bankruptcy protection in 2010 with a new name – Six Flags Entertainment Corp. As the economy recovers, both Six Flags over Texas and Six Flags Inc. have continued to improve in attendance and profitability, ensuring the park will continue to thrill guests well into the future.
Significant Dates in Park History
| | |
| --- | --- |
| 1959 | Planning for Six Flags over Texas begins |
| August 1960 | Park construction begins |
| August 5, 1961 | Six Flags over Texas grand opening |
| 1963 | El Aserradero (log flume) added |
| 1966 | Runaway Mine Train added |
| 1969 | Tower, Mini-Mine Train added |
| 1971 | Big Bend roller coaster added |
| 1974 | Music Mill Amphitheater added |
| 1978 | Shockwave added |
| 1979 (at conclusion of season) | Big Bend removed; Angus Wynne passes away |
| 1980 | Judge Roy Scream added |
| 1983 | Roaring Rapids added |
| 1985 | Looney Tunes Land added (replaced Pac-Man Land) |
| 1986 | Avalanche Bobsled (now La Vibora) added |
| 1989 | Flashback coaster added |
| 1990 | Texas Giant added |
| 1991 | Time Warner begins acquisition of Six Flags Corp. |
| 1992 | Cave ride rethemed from Speelunkers to Yosemite Sam and the Gold River Adventure |
| 1993 | Time Warner completes acquisition of Six Flags Corp. |
| 1995 | Right Stuff simulator ride added |
| 1996 | Runaway Mountain added |
| 1998 | Premier Parks buys Six Flags Corp. from Time Warner; Mr Freeze coaster opens after numerous delays |
| 1999 | Batman the Ride opens |
| 2001 | Titan roller coaster added |
| 2003 | Superman Tower of Power added |
| 2008 | Tony Hawk's Big Spin added |
| 2010 | Texas Giant closed for major renovations |
| 2011 | Six Flags over Texas celebrates its 50th anniversary with the reopening of the Texas Giant |
| 2012 | Mr. Freeze reverses its trains and is re-named "Mr. Freeze Reverse Blast"; Flashback and Texas Chute Out are removed to make way for future attractions. |
| 2013 | The Texas Skyscreamer is introduced as the world's tallest swing ride. |
| 2014 | Looney Tunes USA is renovated into Bugs Bunny Boomtown and Batman trains are reversed during the summer. Rock-N-Rocket removed to make way for 2015 attraction. |
| 2015 | Justice League: Battle for Metropolis added |
| 2016 | Flat rides Catwoman Whip and The Riddler Revenge added. VR headsets added to Shock Wave (billed as "The New Revolution") |
| 2017 | The Joker roller coaster added |