Six Flags over Texas Admission
Here you'll find all sort of information about Six Flags over Texas tickets, season passes, and memberships, and how the Flash Pass can cut down on your time spent in lines.
Admission prices change frequently throughout the season, so we recommend visiting the official site to get the latest and most accurate pricing.
There are 3 ways to get in Six Flags over Texas: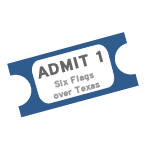 Ticket
1-Day Admission
One-Time Fee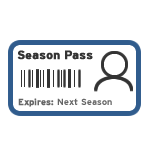 Season Pass
Unlimited Visits for Season
One-Time Fee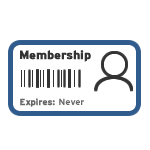 Membership
Unlimited Visits
Monthly Fee
Difference between Tickets, Season Passes, and Memberships
Tickets are standard, one-day admission passes that grant entry to the park. Tickets are probably your best option if you know you won't return or visit any other Six Flags park for that season.
Season Passes and Memberships both offer unlimited visits (to all Six Flags parks) but differ in how they're paid for. A season pass is paid for in-full at the time of purchase and is good for that season (March through January). Memberships, introduced in 2013, cost a smaller, monthly fee that can be cancelled anytime after a full year. A season pass or membership is typically worth it if you plan on visiting Six Flags parks 2 or more times during a season.
Since memberships don't expire, you also don't need to go through the season pass processing at the beginning of each season. Keep in mind though that membership fees continue even when the park isn't open, e.g. February.
Season Pass and Membership Cost Comparison
When the monthly membership fee is compared annually to the cost of a season pass, it's slightly more. You're paying a smaller amount on a monthly basis and for the privilege of being able to cancel at any point (after a year). You can't "cancel" a season pass and get a partial refund.
Gold and Combo Passes
Gold passes offer three benefits over regular passes: included season parking, early park entry, and additional bring-a-friend tickets on specified dates.
Combo passes mean that admission to the nearby Hurricane Harbor waterpark is included for the season.
Dining Passes
Dining Passes are like a season pass for food that you buy for the season and includes meals and snacks with each park visit. Six Flags offers three levels of dining passes. Information on which restaurants accept dining passes and what meals are offered are available on the Six Flags website.
Deluxe Dining Pass
Lunch + Snack + Dinner Each Visit
Gold Dining Pass
Lunch + Snack + Dinner Each Visit
Six Flags Souvenir Bottle w/Unlimited Refills
Pass is Valid at All Six Flags Parks
Shopping Passes
If you shop a lot at Six Flags over Texas, a shopping pass could save you money. After purchasing a shopping pass, all retail purchases come with a 20% discount (with no minimum purchase).
Flash Pass

The Flash Pass is an electronic device from the British company accesso (formerly Lo-Q plc) that lets you virtually wait in ride lines while enjoying other park attractions. Purchased either at the Flash Pass reservation window at the park or online, the Flash Pass allows virtual queuing, meaning users can ride other rides, enjoy a snack, or see a show instead of physically waiting in a line. Essentially, the Flash Pass allows park guests to multitask.
There is a limited number of Flash Passes available each day so if you plan on using it, it's recommended that you purchase it when you first arrive at the park.
* Gold and Platinum Flash Passes also reduce the wait time, in addition to allowing virtual queuing.
How the Flash Pass Works
Users of the Flash Pass determine which ride they want to virtually queue for and select it from the Flash Pass. The Flash Pass will then display a timeframe, based on the length of the line, that the users can return to the ride and skip the line. Users can only wait in one virtual line at a time, but multiple rides can be scheduled back-to-back and each wait time begins when the previous one ends.
When riders return for their ride time, they can skip the line and board the ride (although typically Flash Pass users still wait in a much smaller line within the ride's station beyond the normal line). Riders can ride anytime after their appointment but cannot ride early. Users can also manually cancel rides on the Flash Pass device themselves.
The Flash Pass will automatically compensate wait times to account for ride closures due to inclement weather or mechanical issues and will display a message stating the updated ride time.
Flash Pass Types
Regular Flash Pass
Regular Flash Passes let you wait the full length of the actual queue line, just outside of the line.
Gold Flash Pass
The Gold Flash Pass also reduces wait time by 50%.
Platinum Flash Pass
Introduced in 2010, the Platinum Flash Pass not only reduces wait time by 90%, but also has a "wait once, ride twice" feature.
Is the Flash Pass Worth It?
So should you buy a Flash Pass on your next visit to Six Flags? The answer is, as usual, it depends. Obviously if the park is empty and wait times are non-existent, a Flash Pass is not going to provide any benefits. It's this reason that we recommend waiting until arriving at the park and getting a feel of the crowds before buying a Flash Pass, even though they can be pre-purchased online. Our one exception would be if you're certain the park will be busy during your trip; for example, during a concept or holiday.
In terms of being worth it, some scenarios must be considered. Although the price can seem steep to park locals who may own season passes, it can be an attractive option to out-of-towners who want to do as much as possible in their short trip, especially a trip that may have been constrained into occurring on a busy day.
The average cost-per-user is about $30 for a Regular, $50 for a Gold, and $75 for a Platinum Flash Pass. If you've decided to use a Flash Pass the real question is then, is it worth it to pay an additional $20 per user to reduce wait times by 75%? Or Pay an additional $45 a person to reduce the times by 90% and get to ride twice? It all depends on your situation and your riding preferences.
Our take: only get the Flash Pass if you've seen the long lines or are fairly confident that the park will be crowded. And if you're going to spend the money on a Flash Pass, why not spend a little more and get a Gold or Platinum version so that your wait time is drastically reduced? The regular Flash Pass only has the benefit of getting to wait the full length of the line while doing other activities.
Flash Pass-Enabled Rides
This is a list of Flash Pass-enabled attractions, with the caveat that not all these attractions feature Flash Pass usage every day. Be sure to check with the Flash Pass reservation center or call the park to see which rides are Flash Pass eligible for the day.
* These rides are only available with Platinum Flash Passes