Runaway Mountain
Runaway Mountain is an enclosed steel roller coaster that is set in complete darkness. Located in the Old South & France section of the park, the ride's queue is heavily themed to a mining operation in a swamp area.
The ride's layout includes hills, helixes and large, swooping turns. In fact, one highly-banked turn/drop feels so intense many riders incorrectly assume there's an inversion.
Once riders enter the cave of the "roller coaster that dares the darkness," an eccentric character known as Gator McGee claims ownership to the mountain and gives riders boarding instructions.
A Compact Clone
Runaway Mountain shares the same compact track layout (albeit mirrored) as a group of "Windstorm" coasters popular at traveling carnivals/fairs. Runaway Mountain, however, has custom track and trains that provide a considerably smoother ride than the Windstorm models.
Before Runaway Mountain
Runaway Mountain's location was formerly used by the Spinnaker, a spinning "Enterprise" ride common at fairs. The Spinnaker was actually designed and created by Anton Schwarzkopf who was also responsible for creating the Shock Wave and Big Bend. Schwarzkopf was represented by amusement ride company Intamin when outside of Germany, hence the reason Intamin is often credited as the Spinnaker's creator. The Spinnaker was moved to Six Flags Fiesta Texas where it operated as the "Wagon Wheel" for a number of years.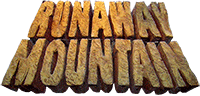 Runaway Mountain Stats
| | |
| --- | --- |
| Ride Type: | Steel indoor coaster |
| Height: | 65 ft |
| Top Speed: | 40 mph |
| Length: | 1500 ft |
| Year Introduced: | 1996 |
| Inversions: | 0 |
| Manufacturer: | Premier Rides |
| Height Requirement: | 48 in |
| Status: | Operating |
| Flash Pass Enabled: | Yes |
Where to Sit?
Sit in the back for the most intense ride, especially during the tight, twisting drop in the middle of the ride.