The Riddler Revenge
The Riddler Revenge is a massive swinging pendulum ride at Six Flags over Texas.
40 riders board a giant disc with outward-facing seats, their feet dangling freely. The disc slowly spins as the pendulum starts to swing back and forth, gaining height each cycle until reaching its peak — 147 feet above the ground. Riders face the ground as they're nearly inverted. At the valley of the swings, the ride reaches speeds of 68 mph.
Riddler Revenge was added for the 2016 season as part of an expansion of the Gotham City section of the park.
Six Flags over Texas' Riddler Revenge should not be confused with Six Flags Magic Mountain's Riddler's Revenge, a stand-up roller coaster with better grammar.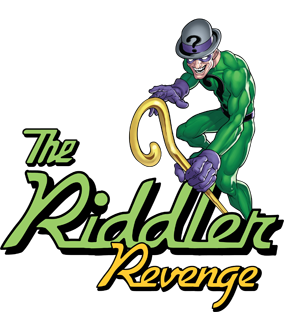 The Riddler Revenge Stats
| | |
| --- | --- |
| Ride Type: | Giant Discovery |
| Height: | 147 ft |
| Top Speed: | 68 mph |
| Year Introduced: | 2016 |
| Manufacturer: | Zamperla |
| Height Requirement: | 52" |
| Status: | Operating |
| Flash Pass Enabled: | Yes |