New Texas Giant
When the original Texas Giant opened at Six Flags over Texas in 1990, it lived up to its name by being the tallest wooden roller coaster in the world. Reaching speeds of 62 mph, the massive ride featured long drops, swooping turns, and a "magic carpet" finale that mystified riders by seeming to constantly gain speed. The Giant was also critically acclaimed, being named #1 Wooden Roller Coaster in the World by editors of Amusement Today, readers of Inside Track magazine, and members of the National Amusement Park Historical Association.
However like most large wooden roller coasters, the Texas Giant did not age gracefully. Nearly 20 years of brutal Texas summers took a major toll on the ride resulting in a rough, bone-jarring experience. In 2009 Six Flags over Texas announced that Texas Giant would be undergoing a transformation never before seen on any roller coaster.
Redesigning a Legend
The Texas Giant closed at the end of the 2009 season so construction on the $10 million renovation could begin. Initially few details were given, except that the entire ride would be re-profiled and re-tracked with a new and unique steel track system developed by Rocky Mountain Construction Group. The result would be less maintenance and a smooth-as-glass ride while still utilizing the Giant's existing wooden structure.
Changes from the Original Texas Giant
As construction progressed, it became obvious they weren't simply replacing the old track with new. The lift hill was raised 10 feet to a new height of 153 feet. Overbanked turns of up to 115° replaced the old swooping turns. Perhaps most noticeably different was the first drop, re-profiled to have a 79°, near-vertical slope.
Three new tunnels with LED lighting effects and mist gave the finale a new spin and an oil derrick (that occasionally shoots fire) was placed on the interior of the ride. Trains created by coaster manufacturer Gerstlauer were themed to look like classic Cadillacs with longhorns on the "hood," completing the Texas theme of the ride.
Steel, Wood, or Hybrid?
The distinction of what kind of roller coaster the New Texas Giant actually is has always been a point of contention. Historically coasters have always been classified by their track. Wooden coasters have flat steel rails screwed to layers of wood and steel-wheeled trains that make for a clunky, loud ride with an out-of-control feeling. Steel coasters have steel track (usually tubular) with polymer-coated wheels that allow a smoother, quieter ride.
The key point is that the support material is irrelevant. Gemini, a tubular steel coaster at Cedar Point with wooden supports and a tubular steel track has always been considered a steel coaster. Likewise, numerous wooden coasters have steel support structures but they're still classified as wood due to their track.
So when the park began marketing the New Texas Giant as having the steepest drop on a wooden roller coaster, several eyebrows raised in the coaster community. In terms of ride experience, the new Giant is certainly closer to a steel coaster than a wooden coaster as well. The "hybrid" description currently used for the Giant seems to have caught on with a number of other coasters given the Rocky Mountain Construction treatment using the same terminology. Regardless of its classification, one thing's indisputable: the New Texas Giant packs a punch.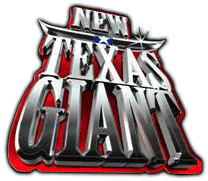 Texas Giant Stat Comparison
| | |
| --- | --- |
| Ride Type: | Wooden coaster, Steel/Wood hybrid coaster |
| Height: | 143 ft, 153 ft |
| Top Speed: | 62 mph, 65 mph |
| Length: | 4920 feet, unknown |
| Year Introduced: | 1990, 2011 |
| Manufacturer: | Dinn Corporation, RMC |
| Duration: | 2 min |
| Height Requirement: | 48 in. |
| Park Section: | Texas |
| Status: | Operating |
| Flash Pass Enabled: | Yes |
Where to Sit?
The back if you want the best experience on the first drop. The front if you want incredibly powerful airtime on some of the other hills (especially the double-up).
New Texas Giant Videos
Watch a introduction for the New Texas Giant below, or watch one of the original commercials that aired on local television around its debut.