Judge Roy Scream
The Judge Roy Scream is a family-friendly wooden roller coaster at Six Flags over Texas. Located along the park's scenic entry lake, guests must access the isolated ride via an underground tunnel in the Goodtimes Square section of the park. The tunnel, which can be a challenge for park newcomers to find, is located next to the Texas Skyscreamer.
A relatively mild ride, the Judge Roy Scream is a great family coaster and provides a good transition between "kiddie" coasters and the larger thrill rides. Its classic out and back layout is simplistic in nature, with low-hanging supports providing a "head chopper" illusion just before the final brake run.
The name "Judge Roy Scream" is a nod to the eccentric Texas Justice of the Peace, Judge Roy Bean. Keeping with the legal theme, the ride has a sign at the top of the lift hill just before the first drop stating "Appeal Denied."
Ride History
Six Flags over Texas was actually seeking a bobsled-style ride for its 1980 season, but due to technical challenges the manufacturer was unable to provide the attraction. That's when the park contacted coaster designer and Dallas resident William "Bill" Cobb to design the Judge Roy Scream. SFoT would eventually get a bobsled ride 6 years later as a transfer from Six Flags Magic Mountain.
Unexpected frigid temperatures made the ride's opening unpleasant, especially so for dance teams from local high schools wearing their costumes.
In 1993 the park turned the Judge's trains backwards for a spring promotion that ended up lasting all year due to its popularity.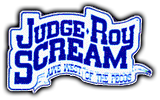 Judge Roy Scream Stats
| | |
| --- | --- |
| Ride Type: | Wooden out-and-back coaster |
| Height: | 71 ft |
| Top Speed: | 53 mph |
| Length: | 2670 ft |
| Year Introduced: | 1980 |
| Inversions: | 0 |
| Manufacturer: | William Cobb & Associates (Trains by PTC) |
| Duration: | 1 min, 30 sec |
| Height Requirement: | 42 in |
| Status: | Operating |
| Flash Pass Enabled: | No |
Where to Sit?
Sit in the middle row of the cars for a smoother ride. The middle rows aren't directly above the train's axles.