Catwoman Whip
Catwoman Whip is a spinning flat ride located in the Gotham City section of Six Flags over Texas. Up to 48 riders sit in suspended seats surrounding a spinning hub. As the entire hub inclines, riders are whipped around an increasingly steep loop.
Catwoman Whip's motion is reminiscent of a former Six Flags over Texas favorite, the Spinnaker. While the Spinnaker (an Enterprise) had enclosed cars, Catwoman Whip (a Zamperla Endeavour) ditches the cars and instead offers modern inverted seats and minimalist over-the-shoulder restraints.
Catwoman Whip is the first Endeavour ride to offer 2-across seating, allowing it to meet the higher capacity demands of a large theme park like Six Flags over Texas. The attraction also shines bright at night with a dazzling array of animated LED lighting that perfectly complements the equally impressive Riddler Revenge light show.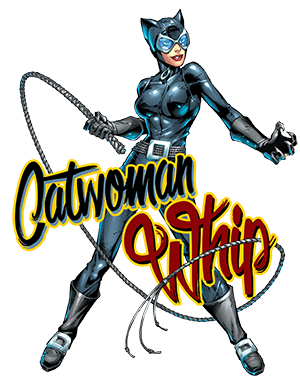 Catwoman Whip Stats
| | |
| --- | --- |
| Ride Type: | Endeavour |
| Year Introduced: | 2016 |
| Manufacturer: | Zamperla |
| Max Height: | 69 ft (20.9 m) |
| Max G-Force: | 3.0 G |
| Height Requirement: | 48 inches |
| Thrill Rating: | Max |
| Park Section: | Gotham City |
| Status: | Operating |
| Flash Pass Enabled: | Yes |