Batman the Ride
Batman the Ride is a compact inverted roller coaster added to Six Flags over Texas for the 1999 season. Manufactured by famed Swiss coaster designers Bolliger and Mabillard (B&M), Batman's inverted trains hang below the track. Riders' legs freely dangle below, making for a different ride experience from traditional sit-down roller coasters.
Although not the largest or fastest ride at a 105-foot lift hill and 50 mph top speed, Batman is still one of the most intense rides at Six Flags over Texas. Located in the Gotham City area, Batman features five inversions: two vertical loops, two corkscrews (or flat spins as B&M refers to them), and a zero-G roll.
Batman's Backwards Stint
In 2014 the park announced it would reverse Batman's trains as part of its 15th anniversary. The "Backwards Batman" experience drew mixed reviews and the regular Batman returned the next season (it was never intended to remain backwards).
The reversed trains weren't simply the regular trains installed backwards. They were customized trains that slowly rotated through a number of Six Flags parks as a sort of "Backwards Batman" tour.
Batman and the Clones
Batman the Ride is a standard layout from coaster manufacturer B&M and rides with identical (or mirrored) layouts can be found at 11 other parks worldwide. In fact, 6 other Six Flags parks have Batman the Ride clones (Six Flags Fiesta Texas named theirs 'Goliath' instead of 'Batman the Ride').
Texas' 3 Clones
Texas is home to 3 "Batman the Ride" clones — one at Six Flags over Texas, one at Six Flags Fiesta Texas named "Goliath," and one at Sea World San Antonio named "Great White." SFoT's was the second built of the three, with Great White opening 2 years earlier in 1997.
The Batsuit that Never Was
Originally the park planned to put a "Batsuit" in one of the empty tubes in the station near the exit, however this plan was scrapped and the tube remains empty.
Several Shades of Gray
Unlike most other roller coasters, Batman's track arrived at the park unpainted (only a gray primer was applied). After construction completed, the park went back and painted the ride its blue and yellow color scheme.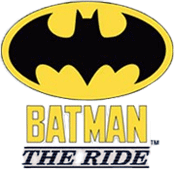 Batman the Ride Stats
| | |
| --- | --- |
| Ride Type: | Inverted roller coaster |
| Height: | 105 ft |
| Top Speed: | 50 mph |
| Length: | 2700 ft |
| Year Introduced: | 1999 |
| Inversions: | 5 |
| Manufacturer: | Bolliger & Mabillard (B&M) |
| Duration: | 2 min |
| Height Requirement: | 54" |
| Status: | Operating |
| Flash Pass Enabled: | Yes |
Where to Sit?
Ride in the front row for the best view (the only row with a view, really). Ride in the back for the most intense experience.