Fright Fest
Each Fall Six Flags over Texas transforms for Fright Fest, the park's annual Halloween event. The entire park turns into a spooky version of itself, complete with decorations and scare zones, themed shows, haunted houses, contests, and more.
Be sure and read our Tips and Rules section before visiting.
Thrills by Day, Chills by Night
During the daylight hours of Fright Fest, Six Flags over Texas offers its standard family fun appropriate for all ages. Kids can even trick or treat in Looney Tunes "Spookytown" and participate in a costume party.
However as night falls, The Awakening ritual releases hoards of zombies, ghouls, and other maniacal beasts into the park with one mission: terrifying guests. Specially designated Scare Zones have the highest concentration of terror. The park recommends taking kids 12 and under home before nighttime during Fright Fest.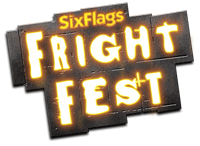 Fright Fest 2017 Dates
September 23 – October 31
Haunted Houses
Six Flags over Texas offers several haunted houses and mazes during Fright Fest. Admission to each is a separate charge in addition to admission. If you plan on visiting multiple haunted houses, buy a haunted house pass for a substantial discount.
Scare Zones
From 7 PM to 1 hour before park closing, the zombies, ghouls, and ghosts come out to play in various Scare Zones scattered throughout the park.
Black Widow's Walk (Old South)
Bio-Mech Sector (Front Gate/Star Mall)
Boomtown Terror (Boomtown)
Camino de los Vampiros (Mexico)
Freaktown Side Show (USA)
Texas Scare-a-Tory (Texas)
Fright Fest Tips and Policies
Guests 12 and over cannot wear costumes, masks, face coverings, or full-face makeup to Fright Fest for safety concerns.
Weapons or props of any kind are not allowed into the park.
Don't touch the roaming characters in the park or in haunted houses (they've already been told to not touch you).