Texas SkyScreamer
Standing at a jaw-dropping 402 feet, the Texas SkyScreamer debuted as the world's tallest swing carousel. Located on the former site of Texas Chute-Out parachute ride in Goodtimes Square, the massive attraction utilizes the old Chute-Out queue house as the ride's computer/control room.
Manufactured by Funtime of Austria, the 400-foot Texas SkyScreamer towers over every other attraction at Six Flags over Texas (even Superman Tower of Power's structure is a full 75 feet shorter). Known as a StarFlyer ride, the SkyScreamer spins 24 guests around at 32 mph while moving about the central tower. The minimalist seats suspended from chains that simply look inadequate provides an unprecedented level of freedom and fear.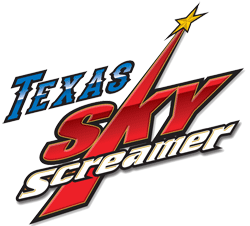 Texas SkyScreamer Stats
| | |
| --- | --- |
| Ride Type: | Swing ride |
| Year Introduced: | 2013 |
| Manufacturer: | Funtime |
| Height Requirement: | 48 in. |
| Thrill Rating: | Max |
| Park Section: | Goodtimes Square |
| Status: | Operating |
| Flash Pass Enabled: | No |
Texas SkyScreamer Videos
Check out our video below, along with the commercial Six Flags over Texas played to advertise the new ride.