Superman Tower of Power
Introduced in 2003 — appropriately in the Tower area of the park — Superman Tower of Power is the tallest S&S combo drop tower ride in the world. The ride blasts passengers up and down nearly 250 feet in the air with nothing but compressed air.
Ride Operation
S&S tower rides typically operate one of two modes: "Space Shot" mode where the vehicle launches upward, and "Turbo Drop" mode where the vehicle slowly rises to the top before freefalling. Combo towers like Superman Tower of Power combine the two modes, initially launching the vehicle upward before bouncing a few times and rising to the top before a final freefall. During the hot summer months the ride has operated in the "Space Shot"  mode due to the risk of overheating if the longer combo mode is used.
The ride's massive structure tops out at 325 feet while the ride vehicles usually only travel to a height of about 245 feet.
Superman Tower of Power Photos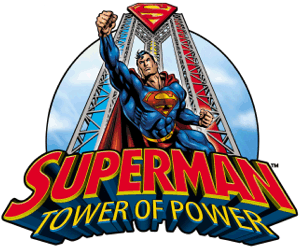 Superman Tower of Power Stats
| | |
| --- | --- |
| Ride Type: | Combo Drop Tower |
| Year Introduced: | 2003 |
| Manufacturer: | S&S Power |
| Height Requirement: | 52 in. |
| Thrill Rating: | Max |
| Park Section: | Tower |
| Status: | Operating |
| Flash Pass Enabled: | Yes |