New for 2016 at Six Flags over Texas
For 2016 Six Flags over Texas will add two new rides and re-theme an existing one as it expands the Gotham City section of the park.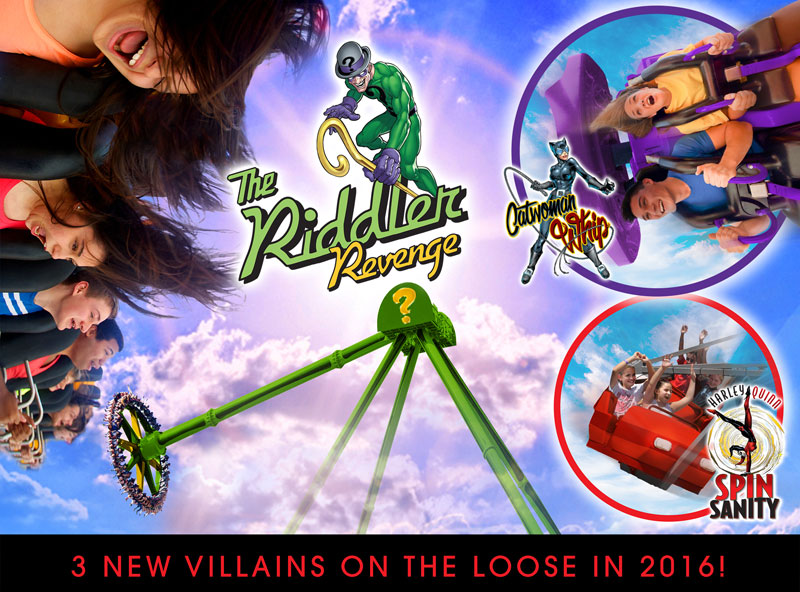 Catwoman Whip
Catwoman Whip will take 48 guests at a time on a dizzying wheel, mimicking the speed and rotation of a whip. The ride is a Zamperla Endeavor.
The Riddler Revenge
The Riddler Revenge is a massive, swinging pendulum. Riders will sit around a swinging, rotating disc as they're flung 147 feet in the air, nearly inverted, at speeds up to 68 mph. The Riddler Revenge is actually a Zamperla Giant Discovery, the largest "Frisbee" flat ride available.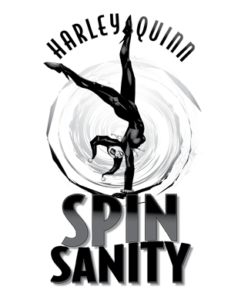 Harley Quinn Spinsanity
To keep the Gotham City area expansion consistent, the park is also re-theming Crazy Legs as Harley Quinn Spinsanity.
Official Press Release
Six Flags Over Texas Announces Major Expansion with 3 New Rides
DC Universe Villains Help Boost Theme Park's Coaster Resume
Six Flags Over Texas, the Thrill Capital of Texas, in partnership with Warner Bros. Consumer Products and DC Entertainment, today announced plans for an impressive expansion to the GOTHAM CITY section of the park that will include three new rides in 2016. The area will become the ultimate battle of BATMAN versus the Rogue's Gallery of Super-Villains with the opening of The Riddler Revenge, Catwoman Whip, and Harley Quinn Spinsanity. These exhilarating rides will stand alongside MR. FREEZE: Reverse Blast giving guests an epic dose of villainous coasters after enjoying BATMAN™ The Ride in this portion of the park.
"We are excited to offer our guests these premium attractions, thanks to our partnership with the popular DC Comics brand," said Steve Martindale, Six Flags Over Texas park president. "These rides are an excellent addition to our already impressive line-up and the expansion of Gotham City will offer a uniquely villainous experience."
The Riddler Revenge, Catwoman Whip, and Harely Quinn Spinsanity will taunt and beckon guests as they make their way through Gotham City. Characteristic of The Riddler's flamboyant and unpredictable style, the intriguing and oversized pendulum shaped ride — The Riddler Revenge — will send guests on a dizzying journey by swinging them back and forth while rotating counterclockwise. The ride will propel 40 riders at speeds of nearly 70 miles per hour higher and higher until they experience a feeling of weightlessness at 147 feet in the air. On Catwoman Whip, 48 riders, sitting in rows of two, will spin and tilt in a circular motion, building up speed as the ride whips around, mimicking its namesake. Harley Quinn Spinsanity will have riders spinning, twisting and swirling around and around in a thrilling and classic ride experience for the entire family.
The Super-Villains are set to make their presence felt in Gotham City in the spring of 2016.
Six Flags Over Texas is also announcing the start of 2016 Season Pass sales with a limited time offer through Labor Day featuring the lowest prices of the year on 2016 Passes. From September 3 through September 7, guests will receive a free upgrade to a Combo Gold Season Pass when four or more Passes are purchased. Combo Gold Season Passes include admission to Six Flags Over Texas and Hurricane Harbor – Arlington, and any other Six Flags theme park, as well as free parking and special admission offers for friends. 2016 Season Passes provide unlimited visits for the rest of the 2015 season (including park admission to Fright Fest and Holiday in the Park) plus all of 2016.
Park Changelog
Be sure and visit our Park Changelog section once the park opens to see the complete list of what's new for 2016.