Ride Retrospectives
Our Ride Retrospectives showcase past attractions throughout Six Flags over Texas' illustrious half-century history. If you have photos, videos, information, or suggestions about previous park attractions, please submit them for consideration.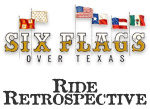 Astrolift
Cable Cars
As one of the original Six Flags over Texas attractions, the Astrolift transported guests high across the park in suspended gondolas. The cable cars' leisurely pace gave a unique perspective on the park and made getting to the opposite side of the park a breeze. Astrolift operated for nearly 20 years before being dismantled after a series of accidents on similar rides in the late 70s.
Astrolift Ride Retrospective
Fiesta Train
Themed Train
The colorful, festive Fiesta Train careened through a number of scenes depicting foreign lands. One of the park's original attractions, the ride underwent a significant remodeling in 1968 before finally being removed after the 1978 season. Despite its removal, Fiesta Train's remnants can still be spotted in the park today as its legacy lives on.
Fiesta Train Ride Retrospective
La Cucaracha
Roller Coaster
Often forgotten and barely mentioned, La Cucaracha holds the distinction of being Six Flags over Texas' first roller coaster. As a typical wild mouse-style coaster, it featured tight turns that gave the illusion of imminent derailment. The park's success and desire for bigger, more unique rides resulted in La Cucaracha's removal in 1965.
La Cucaracha Ride Retrospective
Big Bend
Roller Coaster
The Big Bend is likely one of the most memorable and missed past attractions from Six Flags over Texas' history. This short-lived steel roller coaster featured quick drops and tight, highly-banked turns through the park's landscape to thrill riders. Seemingly endless maintenance and capacity problems ultimately led to the ride's removal.
Big Bend Ride Retrospective
La Salle's River Adventure
Themed Boat Ride
La Salle's River Adventure took guests on a heavily-themed river adventure. Narrated by a colorful guide and complete with Indian attacks, wild animal encounters, and even hidden treasure, La Salle's entertained guests for 20 years. Eventually the ride was removed to make way for the Roaring Rapids attraction, but not before becoming a significant piece of park nostalgia.
La Salle's Ride Retrospective
Sky Hook
Observation Tower
Before the 300-foot Oil Derrick formed part of Six Flags over Texas' iconic skyline, the unique Sky Hook did. Although it was quickly outpaced by taller and more thrilling rides, the Sky Hook will forever live as one of the most unique rides that ever existed at Six Flags over Texas.
Sky Hook Ride Retrospective
Texas Chute Out
Parachute Ride
The Texas Chute Out lifted guests 200 feet in the air in parachutes before letting them gently drift back to the ground. Lasting for over 35 years and giving nearly 30 million rides, the Texas Chute Out was eventually removed to make way for a ride twice its size.
Texas Chute Out Ride Retrospective