Six Flags over Texas announced its new attraction for 2017 early Thursday morning following a series of teaser videos on Facebook that misled people into thinking a Fire Ball was in the park's future.
Instead the park revealed The Joker, a compact "4D free-fly" coaster that allows the seats to freely spin as the car transverses over beyond-vertical drops and dips. The innovative design also features cars that cantilever the seats out to the side, with no track above or below you as you drop and flip your way back to the station.
If the ride looks familiar, it's because a couple other Six Flags parks have already received models of S&S's 4D Free Spin coaster, the closest being Batman the Ride at Fiesta Texas in San Antonio (not to be confused with SFoT's Batman the Ride). Corporate also announced the ride would also be installed at the Six Flags Great America and New England parks for 2017 too.
The attraction continues the recent trend of DC Comics-themed rides at the park and further expands the Gotham City area of the park. Gotham City was also the focus of the recent 2016 expansion that added Riddler Revenge and Catwoman Whip to the section.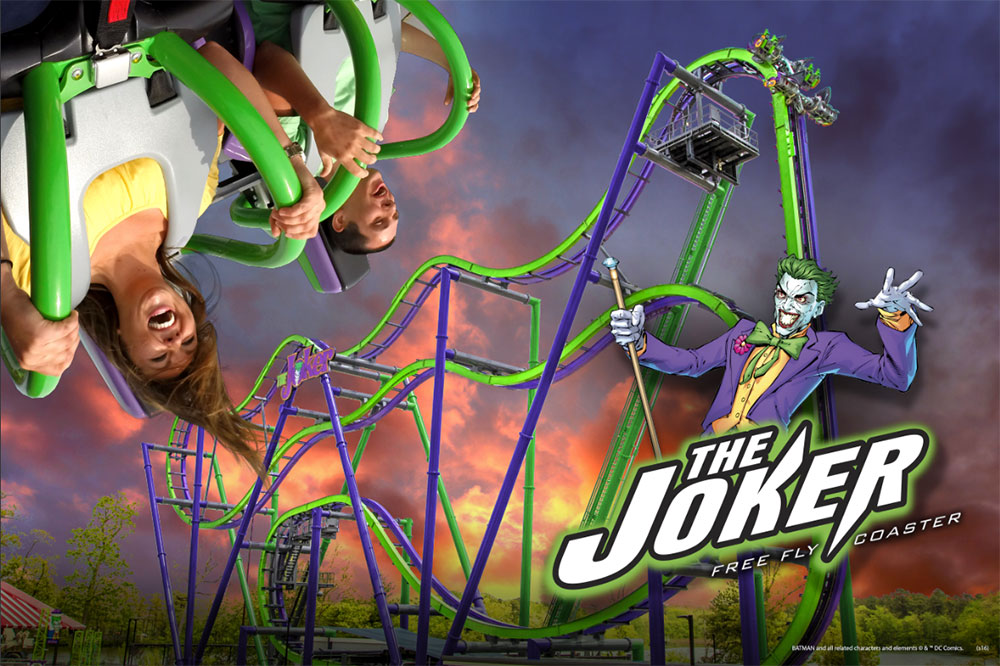 Video
Park Press Release
ARLINGTON, Texas ─ September 1, 2016 ─ Six Flags Over Texas, the Thrill Capital of Texas, and Warner Bros. Consumer Products, on behalf of DC Entertainment, announces the opening of its 13th and most maniacal roller coaster to date, an all-new free-fly coaster called, The Joker. Now home to the most roller coasters in the Southwest, Six Flags Over Texas is proud to welcome this wicked and chaotic thrill ride to reign supreme as the most dynamic coaster in the GOTHAM CITY section of the park.
"We are excited to continue our partnership with the DC brand because it resonates well with our guests, plus The Joker is undeniably one of the greatest Super-Villains of all time" said Steve Martindale, Six Flags Over Texas park president. "The unpredictability and gravity-defying somersaults on this award-winning, spinning vertical coaster is the perfect addition to our already impressive coaster line-up."
After being lifted straight up a 12-story, 90-degree hill, the freestyle-coaster will wreak havoc as riders flip head-over-heels at least six times along the weightless journey. Thrill seekers will experience exhilarating leaps and dives along a horizontal plane, along with unexpected drops as they tumble from one level to the next. The wing seats amp up the pandemonium since riders will experience all of this chaos with no track above or below─ just the sky, ground and plenty of sinister thrills.
The unique design of The Joker features:
Massive, imposing, floating and twisting I-box track frame in a unique two-tone design;
One-of-a-kind onboard magnetic technology featuring smooth head-over-heels free-fly flips providing guests the feeling of weightlessness as they soar outside the confines of a traditional track;
4-D wing vehicles that seat up to 8 per vehicle with a total of 5 vehicles;
Face-off seats that allow riders to face each other as they tumble head-over-heels;
A 120-foot-tall, 90-degree hill that is ascended by an elevator-style, chain link lift; and
Two beyond 90-degree "raven" drops giving the sensation of free-falling.
The Joker is expected to wreak total mayhem beginning in the spring of 2017, and reign supreme over the Super-Villainous roller coasters in the GOTHAM CITY section at Six Flags Over Texas.
Six Flags Over Texas is also announcing the start of 2017 Season Pass sales with its special Flash Sale through Labor Day weekend featuring the best deal of the year— savings up to 70% off on a 2017 Passes! September 1 through 5, guests will receive a free upgrade to a Gold Combo Season Pass with ever Pass purchased. Gold Combo Season Passes include admission to Six Flags Over Texas and Hurricane Harbor-Arlington, and any other Six Flags theme park, as well as free parking and special admission offers for friends. 2017 Season Passes provide unlimited visits for the rest of the 2016 season (including park admission to Fright Fest® and Holiday in the Park®) plus all of 2017. Passholders may also purchase a Premium Season Dining Pass, which includes a lunch, dinner, and snack during every park visit, plus they will receive a 2017 All Season Sport Bottle for unlimited drink refills. Premium Season Dining Passes may be used at any Six Flags theme park.
For more information about the 2017 season, visit https://www.sixflags.com/overtexas/newfor2017
BATMAN and all related characters and elements © & ™ DC Comics and Warner Bros. Entertainment Inc.